ARL956-B Rugged aluminum laptop with 17.3" LCD, 1920x 1080 resolution
The ARL956-B is a laptop-style multi-slot battery computing system with rugged aluminum chassis construction and corner bumper protection. It features the latest Intel Sandy Bridge Core i7 or i5 processors with ultra fast 2x 2G DDR3 memory and built-in a 17.3" LCD display, 1920x 1080 resolution with anti-reflection tempered glass protection. The unit offers 1PCI-E (x16) and 1PCI-E (x1) or 2 PCI full-length expansion slots for latest high speed acquisition boards and integrates 500G SATA HDD, 2x 3W speaker, 104-key multi-languages keyboard and touchpad. Interfacing with the unit takes place further with the built-in dual Gigabit Ethernet, USB 3.0, Serial ports and output feature both HDMI and DVI.
Dual high capacity Li-ion hot-swappable battery totaling 190WHr makes the ARL956-B ideal for critical application. It also can operate with 100W AC adapter for AC operation and recharging, and the LCD panel for battery capacity shows battery array fuel gauge, power, current, charge/ discharge state, time to fully charged and time to empty.
Products News
ARL970-B Rugged laptop with 17.3" LCD, Intel QM77, support Sandy bridge and Ivy Bridge
ARP690-P, 21.5" LCD portable chassis with PS2 650W power supply
ARL956-B Rugged aluminum laptop portable Battery system with 17.3" LCD, 1920x 1080 resolution
ARP640 Portable Chassis with 17.3" LCD, 1920x 1080 resolution, for Micro ATX MB
ARX605 6U, 5-slot CompactPCI Portable Computer Chassis with 15" LCD display
ARX308 3U, 8-slot PXI/ cPCI Portable Computer Chassis
ARP956 Rugged Multi-Slot Battery Powered Portable Computer System with Core i5/ i7 Processors
ARP650 Rugged Portable Chassis with 15 LCD display, 11-slots for SBC with PBP
Rugged Portable Chassis with 17 LCD display for ATX MB or SBC with PBP
Rugged Aluminum light weight portable system with battery
Multiple Option Rack LCD Console with 17, 19 LCD Keyboard Drawer
Under 20lbs Rugged light weight portable system
Features
All-in-one design rugged laptop

Rugged Aluminum Construction with shock absorbing rubber corners

Compact Size Lightweight Design

Built-in 17.3" TFT LCD display, 1920x 1080 with anti-reflection tempered glass

2x 95W Li-ion battery packs, up to 4 hours battery life

Mini-ITX MB, Intel Core i5-2510E Processors

Industrial Keyboard multi-language with touchpad

1PCI-E (16x), 1PCI-E (1x) or 2 PCI full-length expansion slots

Built-in 500GB 7200 rpm, SATA HDD

Dual Gigabit Ethernet Support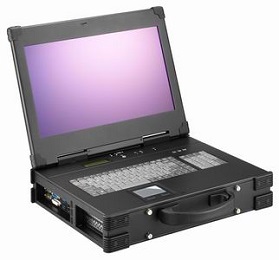 Ariesys Technology Co. LTD. is a leading manufacturer and solution provider for Rugged portable computer systems and Rack mount LCD Monitor keyboard KVM drawer. With years of experience in the field of OEM/ODM for leading companies ranging from military computer hardware to commercial system requirement. We incorporate leading mechanical, electrical and system engineers to provide complete system platform.